Jaap Mazee, Ens
Netherlands Topper
at one of the furthest distances
One of the most sympathetic pigeon lovers in the Netherlands lives in the Noordoostpolder. A hard-working guy with an interest in other people, with wonderful humor and who is wonderfully sober. He is also a good pigeon fancier with great performances. He knows that good performance depends on good pigeons. That is why he has been making sure that good pigeons are brought to his loft for decades. Only then you can expect that your pigeons will end up high in the ranking. The latter happens with the regularity of the clock. National victories over Bergerac and St. Vincent were achieved and many top prizes were earned.
He is a regular player of the ZLU flights and there he also won early prizes, such as the 4th national Perpignan in 2018 and the same hen WONDER LADY opened in 2019 with the 18th Nat. Pau. This kind of performance is very special. His pigeons have to cover enormous distances and when it comes to pigeons, he is in Ens in a kind of no man's land, where a few other enthusiasts are. That makes the performance of his pigeons very special and reflects the class of his pigeon stock !!!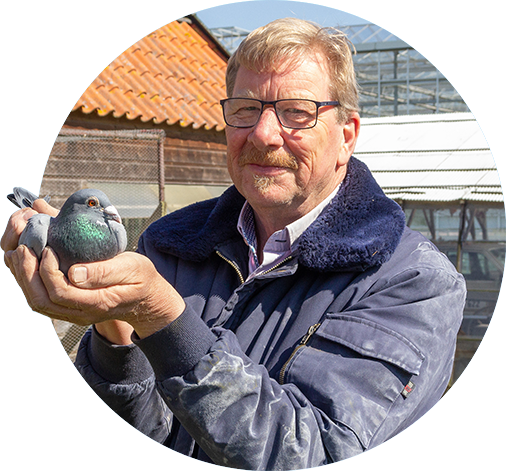 The current strain of Jaap Mazee is made up of pigeons from the Gebr. Brugemann, "Orhana" and "De Orhan-kweker" from the world famous "Orhan" of the Assendelft brothers. "De Orhan kweker" was purchased at a charity auction at the Buitenhuis loft builders. In those years Jaap also had pigeons from Piet Heikamp from Zetten. These pigeons together form the basis of the Jaap Mazee colony.
Here are pigeons from Nico Volkens and Tellman and son. Later Jaap got pigeons (in the form of a round egg) from Jos Pepping. He got those together with the unfortunately deceased pigeon friend Ernst Verheijen from Putten. Together these pigeons form the current pigeon strain of our topper from the Noordoostpolder.